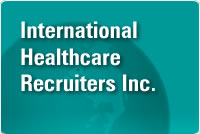 International Healthcare Recruiters Inc.
Florida Office (Corporate Offices)
Suite 202
1133 S. University Drive
Plantation, FL 33324
Phone: 1 954-382-0000
Fax: 1 954-382-9004
New York Office
515 Redwood Drive
Cedarhurst, NY 11516
Tel: 1 954-916-1555
***

Copyright © 2006 International Healthcare Recruiters Inc. All rights reserved.

California Nursing Jobs
California is a huge state with a variety of employment options for both domestic and foreign nurses to consider. There are a number of obvious advantages associated with having a California nursing job, not the least of which is the luxury of living in one of the most beautiful and vibrant places on earth. Take this opportunity to advance you career and increase your clinical experience by going for a California nursing job. This state is home to some of the best hospitals and healthcare facilities in the world, many of which are staffed by the nurses that use our services.

Choosing International Healthcare Recruiters Inc. will make securing a California nursing job easier than ever. We provide comprehensive, personalized, step by step services that take the strain out of the tiresome certification and credentialing processes associated with securing a California nursing Job. If you are a foreign nurse our in-house legal staff and attorney will ensure that you have all your bases covered when it comes to your visa and legal status.

We know the importance of matching each nurse with his or her exact preferences and requirements for a California nursing job. The importance we place on personalizing our services for each of our clients has helped local hospitals relieve their staffing shortages by filling California nursing jobs with highly qualified and specialized nurses.

Whether you wish to work in a hospital or hospice, give elderly or child care, work in a staff or management position, you are sure to land the job that allows you to increase your clinical experience in the area of practice you wish to develop. International Healthcare Recruiters Inc. will also provide you with housing and accommodation help so that all you need to concern yourself with is your California nursing job and the enjoyment of experiencing a new city.